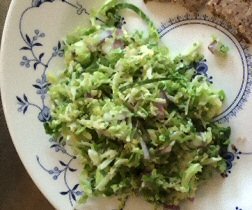 Ingredients
1⁄2 cup
red onion (sliced very thin)
1 teaspoon
honey (or 20 drops of stevia for lower carb version)
salt and freshly ground black pepper
1⁄2 cup
sheep's milk cheese (like Pecorino) or Parmesan (finely grated)
Instructions
Soak the onion slices in a small bowl of cold water for 15-20 minutes while you prepare the rest of the ingredients.
Whisk together the lemon juice, honey, mustard and a pinch of salt and pepper. Whisk in the olive oil until the dressing is emulsified. Taste to see if more oil is needed. Set aside.
Trim all of the Brussels sprouts, cutting off yellowed outer leaves and slicing off any hard parts at the root end. Finely shred the sprouts in a food processor.
Put sprouts in a serving bowl and toss gently with the drained onions and the dressing. Fold in the cheese, taste and adjust seasonings if necessary. (Recipe♦226)