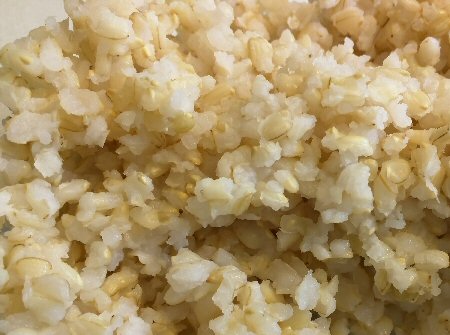 There are many good ways to cook brown rice, and attention to detail can make a huge difference in the final result. In her macrobiotic practice, Pat Palmer has found this way of cooking brown rice to produce moist rice grains that do not glom together, that have a nice taste and are highly digestible.
Ingredients
1 cup
short grain brown rice (organically grown)
1⁄2 teaspoon
salt (a good-quality sea salt is best)
Additional Notes
This recipe is specifically for short grain brown rice, recommended in macrobiotics for wintertime eating because it helps the body stay warm (as compared with long-grain rice which is recommended for summertime eating).
Any extra liquid left over from cooking the rice can be added to a soup later the same day to enrich its broth.
This rice can be served cold later for up to three days, or reheated by adding a tad of water and gently reboiling and simmering for 5-10 minutes.
Rice is delicious served with macrobiotic condiments such as tekka, gomasio or even a little bit of mild tahini sauce. (Recipe #620)


Instructions
Rinse the dried rice gently 3 times in large amounts of tap water, draining well afterwards. The rinse water should remain clear after the last rinse.
Soak the rice (1 cup rice to 3 cups of filtered water) overnight at room temperature for at least 11 hours. Cover the soaking pot but leave the lid cracked so it can breathe. The purpose of soaking is to remove phytic acid from the outer hull of the rice; phytic acid protects dried rice kernels from decay, but unless removed, it also blocks absorption of nutrients in the gut. If you eat a lot of unsoaked rice, you may still be undernourished due to poor nutrient absorption in your digestive tract.
After 11 hours (or maybe a couple hours later--but before 15 hours!), you should see a few small bubbles on top of the soak water, which indicates the the enzyme has done its job. Drain off and discard the soaking water. Let the drained rice stand in a collander at room temperature to drain and dry for at least one hour. Two or three hours won't hurt it either.
Preheat a flame tamer on lowest heat, and at the same time, on another gas burner, bring rice cooking water to a boil (3 cups water to 1 cup rice). Add 1/2 teaspoon salt per cup of brown rice. Use a sturdy pot twice the volume of the water and rice, with a well-sealing lid.
Pour the rice slowly into the boiling water. Let rice return to a slow boil. Cover the rice, and move the pot to the flame tamer over lowest heat. Leave to simmer for one hour without opening the pot.
After an hour, remove the pot gently from the flame tamer without opening it and let stand for another 15 minutes on a trivet. This allows the rice to begin cooling down gently.
After 15 minutes of standing, open the pot, drain (and save) excess liquid, and decant rice gently to a holding dish, allowing steam to escape from the rice after each spoonful. Cover the holding dish with a sushi mat for further cooling. This completely ends the cooking process.
The rice can sit for a couple hours at this point, and can be served warm. When cooled, it can be sealed up. At the end of the first day, any rice not eaten should be stored in the fridge for up to 3 days for reuse.