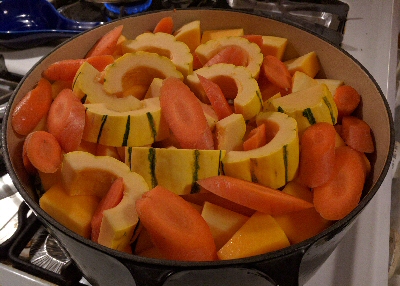 Nishime is a Japanese dish made by long-steaming vegetables in their own juices. The types of vegetables can vary depending on growing season and your wishes.
Ingredients
1
kombu (dried kelp) (1-inch piece)
4
onions (peeled, sliced into medium chunks)
1
green or red cabbage (sliced into medium chunks)
3 pounds
squash, summer or winter depending on season (sliced into medium chunks, peeled if needed)
3 pounds
root vegetables such as carrots or parsnips (cut in thick, diagonal slices)
shoyu (traditionally brewed soy sauce)
Additional Notes
Use a heavy pot with a heavy lid, such as a Le Creuset case iron pot, filling the pot to the very top with vegetables, leaving little empty space inside the closed pot.
Instructions
Place the kombu in the bottom of the cooking pot and cover it with 1/2" filtered water.
Layer in the vegetable chunks by hand, with the lightest ones on the bottom. Approximate order for the vegetables: onions first, then cabbage, then squash, then root vegetables. Keep adding vegetables to fill the pot until almost at the rim. Lightly salt.
Cover and bring to a boil, then reduce to a simmer and cook for 30 minutes or until tender. Avoid opening the lid while cooking or you will release the steam which will slow the cooking process. You will have to open it near the end to test the vegetables for doneness using a fork.
After veggies are tender, add a few splashes of shoyu (traditionally brewed soy sauce) to the pot, cover, give the pot a shake by holding each handle with a potholder (pressing the lid to keep it from coming off). Simmer for another 5 minutes, or until vegetables are thoroughly cooked.
Serve immediately. Good as leftovers for several days. Eat the juices! (Recipe #592)