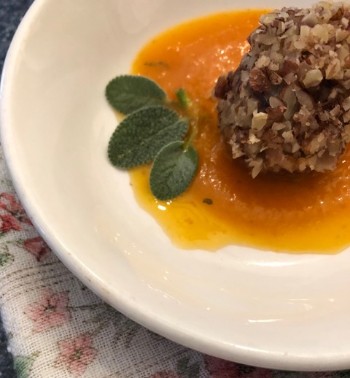 Ingredients
4 tablespoons
olive oil (divided)
1
onion (sliced crosswise, paper thin)
1 tablespoon
chopped fresh sage
1 tablespoon
chopped fresh thyme
1 3⁄4 cup
cannellini beans (or 1 small can thoroughly rinsed)
1⁄4 cup
finely grated gruyere or parmesan cheese (**see vegan substitute below)
2 teaspoons
white wine or cider vinegar (up to 3 tablespoons)
1 cup
chopped pecans (fine enough to resemble coarse meal)
1 clove
garlic (smashed, but left in one piece)
2 tablespoons
sliced chiffonade sage
1 cup
pumpkin puree (sub another winter squash, or canned if necessary)
1 cup
vegetable stock (or more if necessary)
dash
vinegar (if necessary to flavor balance)
spray olive or avocado oil
Additional Notes
**Vegan Substitute: 1 tablespoon ground chia seeds soaked 10 mins in 2 tablespoons water.
Instructions
Preheat oven to 450°.
Making the Bean Ball Mixtures:
Sauté the onions in a large pan with 2 tablespoons olive oil in low heat, long enough so that the onions are a deep, luscious brown color. Add the garlic, sage, thyme, and cannellini beans, and continue to cook until the vegetables are quite dry. Then mash the beans in the pan as thoroughly as possible.
Mix in the cheese (or vegan substitute) and vinegar, and taste for salt and pepper. (You might want to add a bit more vinegar if necessary.)
In a separate bowl, make an egg wash by whisking the egg with 2 tablespoons water. Place the chopped nuts onto a plate. Line a sheet pan with parchment and spray with cooking oil.
With a small spoon or 1½ teaspoon scoop, portion out the bean mixture and place onto the sheet pan. One at a time, pick up each bean portion, roll into a ball, dip into the egg wash, roll around in the nuts to cover, then place back onto the sheet pan.
Spray the top with oil and bake for 12 min or until golden.
Making the Sauce:
Meanwhile, in a saucepan heat 2 tablespoons olive oil and add the smashed garlic and sage sliced chiffonade. Let sizzle just until you smell the garlic-y aroma. Remove the garlic and set aside. Add the pumpkin or squash puree and stock to the flavored oil/sage mixture, and bring to a simmer. Remove from heat and squeeze in the juice from the orange. Add salt and pepper to taste and add a bit more acid if necessary (either more orange juice or vinegar).
Assembling:
For each serving, place about 2 tablespoons of the pumpkin sauce into a very tiny bowl (or Asian spoon). Carefully lay in a nut ball and zest the orange rind over the top once or twice. (Recipe♦361)